Your perfect brew awaits~
Cafe Msia 2020 is just around the corner!
MSM Metal PTE LTD will be joining in on the brewing for this year's Cafe Msia 2020 from 9-11 January 2020 (Thursday and Friday 10am – 6pm) & (Saturday 10am – 5pm). Do come and support us at our booth located at HALL 2, Booth No. B01 to B06.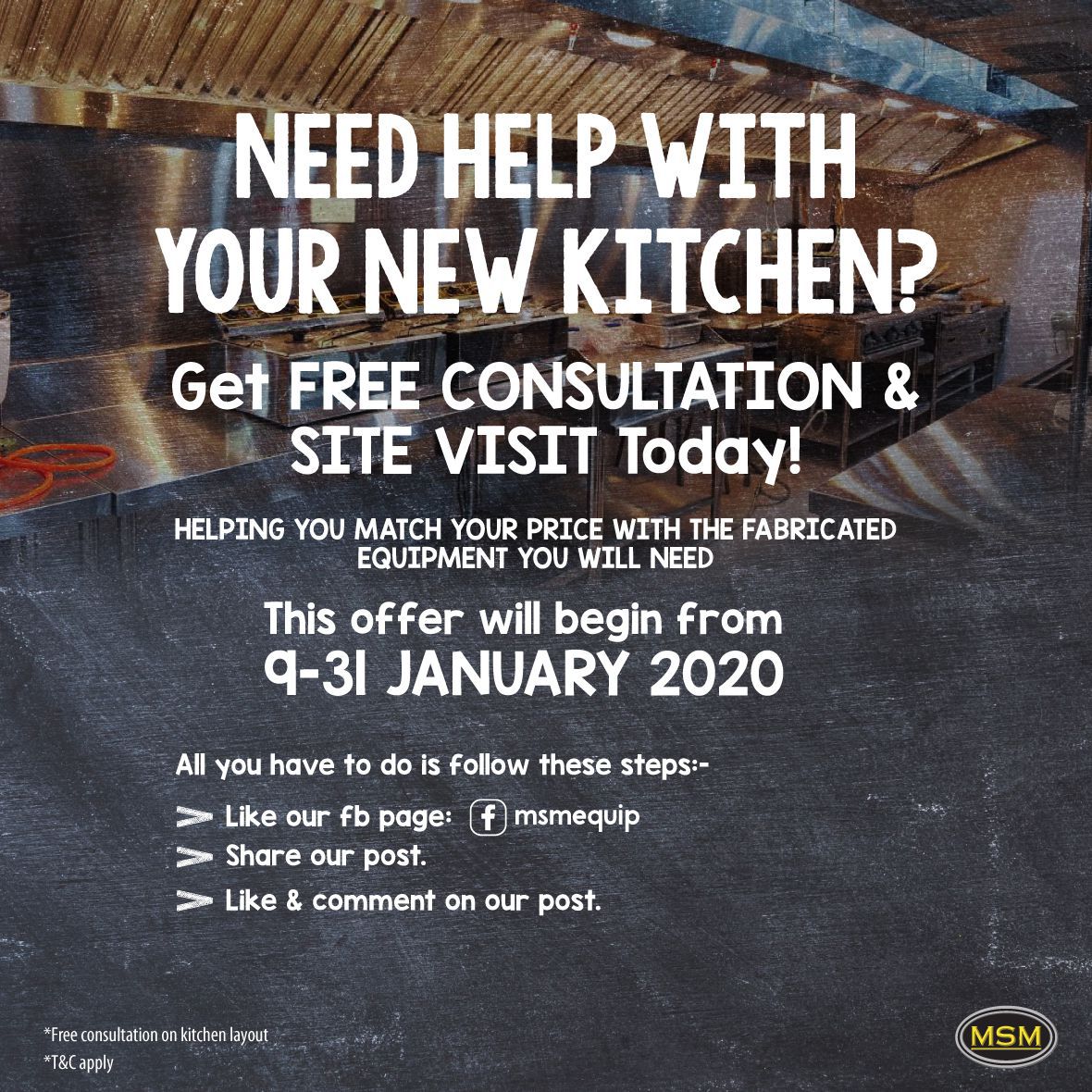 For those that are starting or planning to open up a new kitchen and need advice and recommendations for layout planning and fabrication, you're in luck! Our project team will be available at Cafe Malaysia 2020 for all 3 days, so do come by if you are interested.
We are also having not only 2, not 3, not 4, but 5 promotions! The total of 5 promotions includes:
Promotion Number 1:
KEEP CALM AND STAY WARM with our Taiji food display warmer. This electric food warming showcase is perfect for cafes and restaurants to place any kinds of finger foods!
If you are feeling adventurous, the taiji warmer comes in another 2 different colours besides black! Those which are Black, Yellow, and Red. To continue, the Taiji Food Display Warmer also includes parts such as: a sliding glass door, 3 shelf rack, 1 water tray, and a temperature control knob to make sure your finger foods can handle the heat! \
Out with the old, in with the new! No more traditional gas stoves that are costly and lacks controllability. With our commercial electrical induction cooker, life becomes a whole lot easier.
With lower cost of usage and maintenance, our induction also consists of higher energy efficiency, lower noise, and no pollution. Other than that, there is also a safety function as where it automatically shutdowns when the equipment is unattended for 3 hours.
Promotion Number 3:
Whether you prepare thirty or several thousand meals per day, the Rational Combi Oven has got you covered. The Rational Combi Oven consists of features such as a core temperature probe, integrated hand shower with automatic retraction system, 100 programmes with up to 6 steps and 5 air speeds that are programmable.
Promotion Number 4:
The blender that keeps on promoting (and spinning).
With a powerful motor of 38,000 RPM, 3HP motor generates enough power to liquify even the toughest ingredients! To continue, the blender also consists of a laser-cut Japanese stainless steel blade, which are dull and have flat edges which allows it to pulverise ingredients from ice to spices in seconds without the blade ever losing its sharpness.
Promotion Number 5:
Let your new years be filled with nicely chilled drinks with our 1 / 2 door beverage cooler! With features such as adjustable shelves, there will be no room for discrimination this year towards all cans and bottles. (suitable for all shapes and sizes to be fitted inside). Not only that, it also consists of double layer glass with tempered surface and a bottom wire tube and fan-assisted condensing.
These promotions will only be valid on the 3 days of the exhibition so don't miss out! Nevertheless, we'll be waiting for you!
To register, here will be the registration link: https://registro.asia/cm2020/
For any inquiries, feel free to contact us!
https://fnb.msmmgroup.com/wp-content/uploads/2020/01/04.jpg
643
1280
admin
https://fnb.msmmgroup.com/wp-content/uploads/2019/12/msm-logo-300x195.png
admin
2020-01-03 11:16:35
2020-06-18 10:36:28
(SEE YOU THERE!) We'll be at Cafe Msia 2020